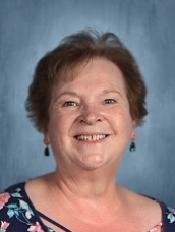 Phone:
Email:
Degrees and Certifications:
Barb Borntrager

I am Barbara Borntrager, wife to a supportive husband, and mother of three grown children who have attended Singing Hills. One of my favorite parts of parenting was reading to my children from the time they were infants. I have their favorite books packed safely away so I can read them to future grandchildren. There are a couple books that I can still recite because they are stuck in my memory from the many times I read them. Reading is one of my favorite relaxation past times and I read at least one book a month. Books are what I use when I need an escape from reality.

I have a Bachelor of Science degree in nursing from Eastern Mennonite University in Harrisonburg, Virginia. I worked in various areas of nursing for 25 years until we adopted our youngest child. Then I was a full time, stay at home mom caring for a child who needed special love. When she was in fourth grade, I started working at SHE in the resource room and the position has evolved into what I am doing today. I have been trained in F.A.S.T. Phonics, Barton Reading and Spelling System and the SiMR program that our school is currently using.

I enjoy helping students learn to read and love it when their faces light up and they say, "Oh, I get it now!" That is the best reward for them and me.
There is no assigned homework over the winter break! But please have your child read something of their choice every day.
Learned words are words that are used frequently in texts but don't follow the decoding patterns. These words need to be practiced and memorized. We have a list of learned words that are taught in each grade level. You will notice that sometimes, the words do decode according to the patterns, especially in kindergarten and first grade. Those words are taught as learned words because they are seen so frequently in text, but the patterns haven't been taught yet.