Return to Headlines
2022 STARS Award winners announced
The Elizabeth Education Foundation presented the 2022 STARS Awards at a dessert banquet Saturday, April 2, at Elizabeth High School.
The STARS awards (Students Taking Accountability and Responsibility Seriously) are given to students nominated by their teachers for modeling responsible behavior, making good choices, spending time involved with clubs and organizations in school and the community, and being committed to learning, caring and helping their fellow students and school.
Every year, Elizabeth teachers nominate 5th-12th grade students who demonstrate some of the following characteristics:
Model responsible behavior.

Spends time involved with clubs or organizations at school or in the community, and/or spends time involved in music, theater, arts or sports.

Committed to learning, motivated to do well in school and actively engaged in learning. Cares about his/her school.

High value on caring and helping other people and accepts personal responsibility.

Makes good choices. Has empathy, sensitivity and friendship skills, resists negative peer pressures.
The EEF is a self-funded organization. Income is generated by encouraging neighbors to shop with participating businesses that donate a portion of sales to EEF as a designated charity. In addition, support can be given by participating in monthly fundraising events and donating directly to the foundation.
More information on EEF can be found at elizabethef.org, by emailing ElizabethEducationFoundation@outlook.com or calling 303-646-6761.
2022 STARS recipients
Elizabeth High School
Twelfth grade
Dylan Baxter
Parker Gaudreault
Jennifer Grimes
Masen Loeks
Rylan McNeil
Casey Schaben
Riley Thompson
Eleventh grade
Whitney Benson
Lily Brace
Morgen Hubbs
Alexander Kelty
Karli Pronske
Tenth grade
Meghan Benkendorf
Cooper Connelley
Samuel Malakowski
Katie Millsapps
Giovanna Perrault
Lily Settoon
Amy Ward
Ninth grade
Andrew Brown
Marley Casaretto
Kyle Gustafson
Emily Meyer
Samantha Mowbray
Sophia Stillman
Elizabeth Middle School
Eighth grade
Jaden Francis
Antonio Guevara-Hudson
Stephanie Lunt
Ozzy Santangelo
Seventh grade
Denzel Guevara-Hudson
Bodie Jordan
Aliana Quintana
David Savage
Sixth grade
Caedyn Atwell
Miguel Gonzalez
Isabella Pergeau
Alexa Saucedo
Legacy Academy
Eighth grade
Christopher Rediger
Sienna Snively
Seventh grade
Sixth grade
Fifth grade
Running Creek Elementary School
Fifth grade
Bradley Barnhart
Leah Lave
Bailey Riniker
Singing Hills Elementary School
Fifth grade
Khiya Phillips
Emily Ramsay
Mayla Ruskauff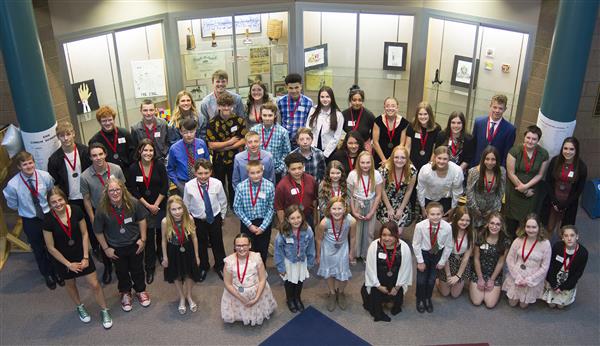 Photo courtesy of Jeannie Seip Photography