Return to Headlines
Brady Mowbray: National Merit Scholarship semifinalist
Elizabeth High School senior Brady Mowbray's hard work and varied interests in school have resulted in him being named a semifinalist for the National Merit Scholarship.
Today, officials of the National Merit Scholarship Corporation in Evanston, Illinois, unveiled their list of 16,000 semifinalists in the 68th annual National Merit Scholarship Program. The nationwide pool of semifinalists represents less than 1% of U.S. high school seniors.
Brady, who currently ranks first in his class at EHS, is among the academically talented high school seniors who have an opportunity to continue in the competition for some 7,250 National Merit Scholarships worth nearly $28 million that will be offered next spring.
To be considered for the Merit Scholarship award, semifinalists must fulfill several requirements to advance to the finalist level of the competition. About 95% of the semifinalists are expected to attain finalist standing, and approximately half of the finalists will win a National Merit Scholarship, earning the Merit Scholar title.
What it takes to be a semifinalist
High school juniors entered the 2023 National Merit Scholarship Program by taking the 2021 Preliminary Scholastic Aptitude Test/National Merit Scholarship Qualifying Test (PSAT/NMSQT), which served as an initial screen of program entrants.
To become a finalist, the semifinalist and a high school official must submit a detailed scholarship application, in which they provide information about the semifinalist's academic record, participation in school and community activities, demonstrated leadership abilities, employment, and honors and awards received. A semifinalist must have an outstanding academic record throughout high school, be endorsed and recommended by a high school official, write an essay, and SAT or ACT scores that confirm the student's earlier performance on the qualifying test.
Out of the three times Brady has taken the SAT, his top score was 1,550. A perfect score on the test is 1,600.
"Math is probably my strong suit; I don't think I'm very bad in any of the other subjects, either," Brady said, understating his academic successes. According to EHS principal Bret McClendon, the lowest grade the senior has received in high school is a couple of A's: Everything else has been an A+.
In middle school, Brady took most of the math classes that are required for high school students to graduate. In high school, he has taken the most difficult Advanced Placement calculus classes EHS offers and then took more advanced math through Arapahoe Community College.
"I just do the work and am good at test taking," Brady said, noting that he's able to focus more clearly when taking exams and is able to recall information more easily. "I have a positive mindset with tests." He said he looked at the PSAT and SAT as challenges "because they're bigger and … kind of fun in my mind."
Well-rounded scholar
National Merit Scholarship semifinalists will be notified in February if they have achieved finalist status. Merit Scholar designees are selected on the basis of their skills, accomplishments and potential for success in rigorous college studies, without regard to gender, race, ethnic origin or religious preference.
Brady has a wide set of interests and perhaps an even wider path for potential success in college. Since middle school, he has run cross country, played baseball and, during track and field season, focused on the high jump as his primary physical competition. Meanwhile, his main mental exercise regimen outside of the classroom includes Chess Club, Knowledge Bowl and the Dungeons and Dragons Club. This year, he also plans to participate in FBLA and theater.
Chess Club reigns as his favorite. "It's like puzzle solving," he said. "The main reason anyone would play chess is because it's fun: It gets your brain thinking – makes you feel smarter when you make good moves." How good is he? "I would rate myself not very good in the grand scheme of things, but everybody who doesn't play chess would call me good."
As for other subjects in school, Brady said he likes history, especially AP European History and AP U.S. History. While he likes reading about a lot of different subjects, writing might be at the bottom of the list of all the classes in which he excels: "It takes a lot more thought to write an essay than it does to solve a math equation."
Science classes have also been a highlight for Brady. He joked that he has learned about photosynthesis every year since third grade. Chemistry was his favorite science class, and it represents one of the many directions he's thinking of pursuing in college.
Chemistry, chemical engineering, or any form of engineering lead the list. Math is a strong possibility given Brady's aptitude for it, "but that doesn't necessarily mean I'd want to become a mathematician." Perhaps studying to become an accountant would match his skills, but then again, he also has interest in becoming an editor. Another route toward putting his considerable talent for analytical thought could be pharmacy studies.
With such a wide array of interests and abilities, Brady said choosing an excellent school with a quality liberal arts program is important to him so he can explore as many options as possible. Because he still has time before the application window opens, he is in the exploratory phase, with a constantly shifting list of more than a dozen institutions – all known for their rigor and excellence.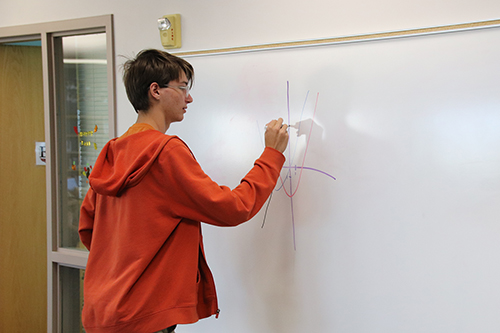 About National Merit Scholarships
NMSC, a not-for-profit organization which operates without government assistance, was established in 1955 specifically to conduct the annual National Merit Scholarship Program. Scholarships are underwritten by NMSC with its own funds and by approximately 340 business organizations and higher education institutions that share NMSC's goals of honoring the nation's scholastic champions and encouraging the pursuit of excellence.
Three types of National Merit Scholarships will be offered in the spring of 2023. Every finalist will compete for one of 2,500 National Merit $2,500 scholarships that will be awarded on a state-representational basis. About 950 corporate-sponsored Merit Scholarship awards will be provided by approximately 180 corporations and business organizations for finalists who meet their specified criteria, such as children of the grantor's employees or residents of communities where sponsor plants or offices are located. In addition, about 160 colleges and universities are expected to finance some 3,800 college-sponsored Merit Scholarship awards for finalists who attend the sponsor institution.
National Merit Scholarship winners of 2023 will be announced in four nationwide news releases, beginning in April and concluding in July. These scholarship recipients will join nearly 368,000 other distinguished young people who have earned the Merit Scholar title.