Return to Headlines
Calahan, Waller appointed to Board of Education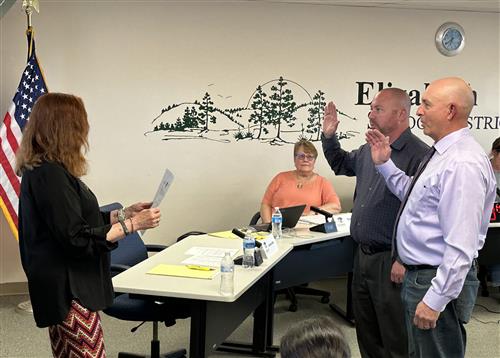 Shellie Scobee, left, swears in new board members Mike Calahan and Jon Waller.
The Elizabeth School District Board of Education returned to its full complement of directors on Monday, April 10, with the appointment and swearing in of Mike Calahan and Jon Waller.
Both men were among four interviewees for the remaining two seats left open with the resignation of three directors on March 13. Director Mary Powell was appointed March 16 to ensure the five-member board had a quorum in order to conduct school district business.
Board president Rhonda Olsen, vice president Heather Booth and secretary Powell reviewed written applications from nine community members who sought appointment to the two seats. Each forwarded three choices for possible interviewees and with some overlap among their choices, the four finalists were notified they would be interviewed at the April 10 meeting.
After each interview, the three board members briefly discussed the candidates and voted unanimously to appoint Calahan and Waller, who were then sworn in and seated on the board. They participated in the remainder of the meeting. Calahan was appointed treasurer for the board, and Waller is the assistant secretary/treasurer.
Calahan is a Colorado native with a background in finance and accounting. He has lived in Elizabeth since March 2015 with his wife and five children.
He is a graduate of Regis University with a Bachelor of Science degree in Accounting. He has worked in the accounting industry for 19 years, including owning his own tax and accounting firm for 16 years.
Waller moved to Colorado in 1996 and built a successful landscaping and tree-cutting business but he knew that his calling was to serve the community. In 2000, Waller sold his business and became a deputy for the Arapahoe County Sheriff's Office. Due to his training in active-shooter scenarios, he finished his career at the Head of Security for Crawford Hotel/Union Station under RTD, consulting local businesses and organizations on how to deal with life-threatening situations. Waller retired after 21 years in law enforcement.
The father of five children, Waller has lived in Elizabeth since 2014. His youngest son attended Elizabeth schools and graduated from EHS in 2018. Waller was involved in several of his son's activities, including wrestling and soccer.
Waller and his wife Claire continue to be active in the community, and they enjoy traveling and taking care of their hobby farm.