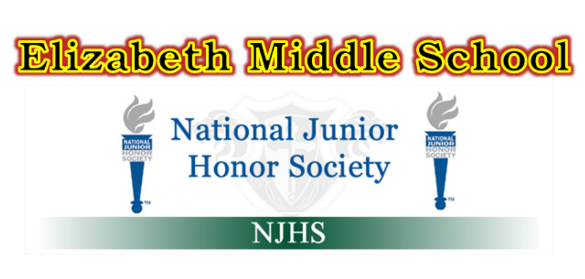 Membership
*Next Meeting Wednesday, October 2, 2019 in Mrs. Banks room.

**T-Shirt Orders Due October 2, 2019

Invitations to apply for membership in Elizabeth Middle School National Junior Honor Society are given out eary in the Spring semester of school. To be eligible for membership consideration, students must meet the academic standard of a cumulative grade point average of 3.5 or higher. Additionally, candidates must meet high standards of service, leadership, citizenship, and character. Students are reviewed by a faculty council consisting of five members.
Principal Appreciation
In celebration of National Principal Appreciation Month, EMS NJHS members gave gift baskets to our Principal, Ms. Eschief, and Assistant Principal, Mr. Hirman. Because of their support, we have been able to strengthen our NJHS chapter.
Christy Banks and Reaghan Quintana, Sponsors